As a logistics services company, at OT Logistic we take care of all the process of logistics and transport of the goods.
From our warehouse in Rubí, we offer you all types of storage space, whether it is temporary or long-term. In addition to services of picking, classification and ordering services using barcodes, order preparation, etc. Everything a logistics services company should offer.
At OT Logistic we develop all the processes of the supply chain and thus be able to offer a wide range of services. We also have the necessary tools to execute the process.
The logistics in a company is a fundamental piece
The logistics processes are a key element in companies to be able to offer a better and faster service to their customers.
A good optimization of the logistics of the company can be very beneficial for your company:
Minimizing losses or wastage suffered due to the improper handling of the goods
Reducing the costs, thought to the fact that it is made better use of the economic investment
Improving production and distribution times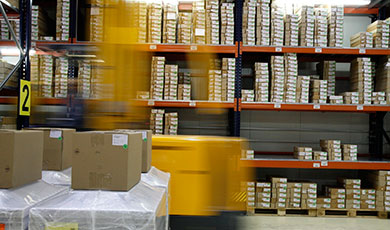 Infrastructure and equipment
Our warehouses are distributed in different areas for the storage of all sorts of goods. In addition, we also dispose of the top-notch systems for loading, unloading, handling, storage and preparation of shipments procedure.
Technology
At OT Logistic we evolve with the new technologies so that we can offer an excellent service as well as be more competitive. We work with the best tools in the sector for an optimal optimization of your possibilities.
Qualified staff
The constant training of our staff and their commitment to the concept of professionalism are the keys to offer the best services possible. We work to maintain the excellent condition and conditioning of the goods.
Experience
Experience has taught us that the methodology to achieve our success is based on a close collaboration with our customers. The experience is perhaps the thing that we value the most at OT Logistic. Since experience is a degree.