Truck service with driver

The truck service with driver that we offer you at OT Logístic is designed and thought for the transport of large and heavy goods.
The service consists of:
Transportation of your cargo from an origin point to a destination point. As it is a truck transport with a driver, we can plan routes with intermediate stops to unload or partially load.
Handling loading and unloading of goods
Optionally, you can have an additional person in the event that the transport requires it.
Inventory and cargo check at the start of the service
Inventory and cargo check at the end of the service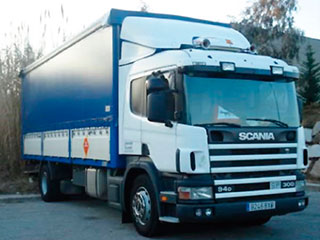 Service features
Trucks for full loads or, if not necessary, with distribution
Measures from 4 to 9m.
Loads from 1,500 to 16,000 Kg.
Lifting door and pallet truck to facilitate the loading and unloading process.
ADR kits for the transport of dangerous goods
Advantages of the service
Optimize transportation costs
Take advantage of the knowledge and experience that we have.
Hiring the service from a specialized company will allow you to focus solely on your core business.
Fully flexible service adapted to your needs.
Versatile transport solution for all sectors.
We are characterized by …
Quality in deliveries
We are a company with extensive experience in van delivery. Your products travel safe with us.
Value added
We offer a totally personalized service. Contact us and we will study your case to offer you the best solution
Customer satisfaction
Our goal is to develop services that meet the expectations of our customers. From receipt to delivery of the merchandise.
Do you need a truck service with driver
If you require a delivery van service in Rubí or surroundings, you can contact us. We will study your case to offer you the best possible solution.