Mobile crane rental
Mobile crane rental is a service we offer at OT Logístic. Our self-propelled mobile cranes are dedicated to lifting and distributing very heavy loads. They are also designed for the assembly and disassembly of all types of machinery or industrial buildings.
Our cranes have telescopic jibs that can quickly and easily reach very high working heights.
Thanks to their off-road chassis, they are perfect for public and off-road travel. They offer great manoeuvrability and wide vision.
Mobile cranes are available for rental with load capacities ranging from 30Tn to 100Tn, for more demanding jobs.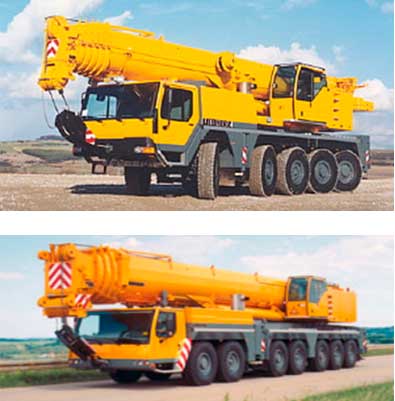 Our cranes have the best safety systems
Sometimes the workspace on the construction sites is often tight. Thus, we find it difficult to evenly extend all the stabilizers of the mobile crane. Our cranes incorporate a system that allows the crane to be used safely and flexibly in these conditions where space is limited.
In this way, the operator can fully focus on the lifting and work of the crane.
In OT Logístic we offer you a personalized service for your work with heavy loads. We carry out a preliminary study of the work to be carried out, this allows us to perform a better execution at the lowest possible cost.
We also take care of requesting all the necessary permissions to offer a turnkey service.

Our mobile cranes are equipped with special accessories such as:
Jibs
Special jibs called runer, facilitating work in which the machine or piece to be hoisted is located at a low point.
Accessories to facilitate the lifting of equipment.
Slings
Separators
Slings of different models and capacities
Adjustable chains
…
If you wish to rent a mobile crane to perform your work you can contact us from our contact section or through the form below
We will study your case and offer you a tailor-made solution offering you maximum quality, reliability and efficiency in the service.
Our goal is to provide a custom service to each client, advising and helping in the most appropriate choice to each job.